INDUSTRIES
Pharma, Food, Chemicals, Cosmetics, Luxury goods, Energy, Aerospace, Electronics, Automotive, Chemicals, Steel.
SERVICES
Financial services, Private banking, Retail, Media, Transportation, Real estate, Telecoms.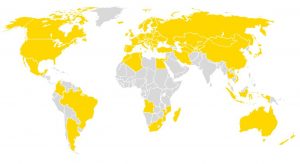 GEOGRAPHY
Europe: All of it. From Sweden to Spain, and from Ireland to Russia and former soviet block countries.
Near and Middle-East: Turkey and most of turkish speaking « -stan » countries, Iran, Israël, Jordania, Kazakhstan, Lebanon.
Far-East and Asia: China, Mongolia, South-Korea, Japan, Indonesia, Thailand, Vietnam, Australia, New-Zealand.
Americas: Canada, USA, Mexico, Argentina, Brazil and Colombia.
Africa: Morocco, Algeria, Tunisia, Egypt, Angola, South-Africa, Madagascar, Mozambique.